American Dream Rally – Celebrating 50 Years Since "I Have a Dream" Speech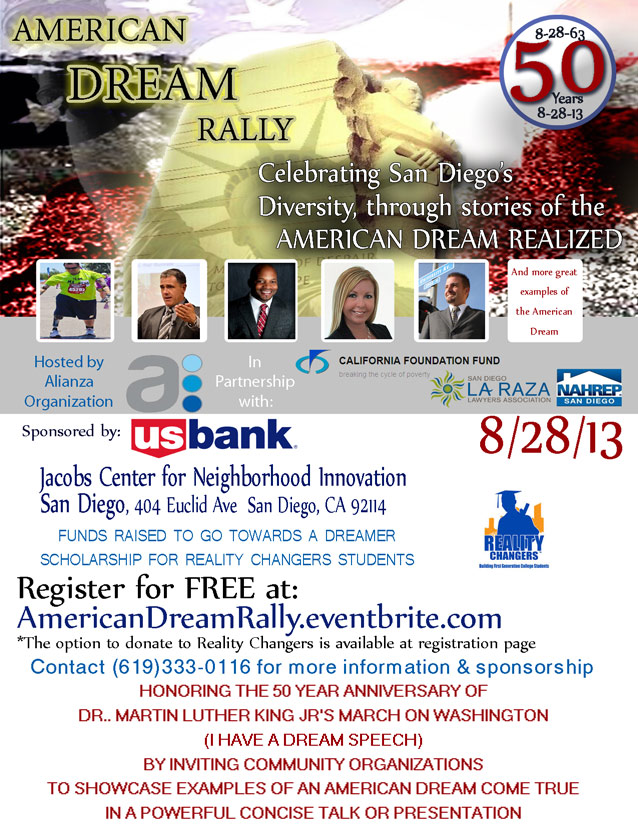 August 28 marks the 50th Anniversary of Dr. Martin Luther King, Jr.'s March on Washington where he delivered his historic "I Have a Dream" speech – a watershed moment in our nation's history.  50 years later, what is the significance of the American Dream?
We invite you to join us on Wednesday, August 28, 2013  at the Jacobs Center to rally and celebrate Economic Empowerment, Civil Rights and the American Dream.  We believe you would be an important partner in our August 28th celebration and look forward to seeing you there!
The American Dream Rally will feature a rotation of 6 speakers. Our confirmed speakers currently include Entreprenuer Roberto Monaco and Community Leader Alex Montoya.
Each speaker will be given the floor for a total of no more than 5 minutes to expound on the American Dream, Civil Rights or Economic Empowerment. Have you heard of TED Talks? This will follow a similar format.
All proceeds in excess of cost will go directly to benefit Reality Changers – specifically for a "Dreamer Scholarship." This is a zero profit event.
After the rotation of speakers, the rally celebration will conclude with networking, connecting and mixing.
Your voice is important in this historic rally celebration. Join us and do good in advancing the American Dream, Civil Rights and Economic Empowerment.
Register at http://americandreamrally.eventbrite.com/